Robyn Marie Fradley
April 17, 1968 - February 25, 2013
Robyn Marie Fradley is an angel loaned to Del and Jane Fradley on April 17, 1968.
Robyn entered this life with severe physical defects. Defects that if left uncorrected would be fatal in a matter of days. Her new parents were advised to leave her, let nature run its course, start a new life and have other children. That really was not an option for Del and Jane, nor is it their nature. So, they lovingly accepted Robyn as God's gift and looked ahead to Robyn's future.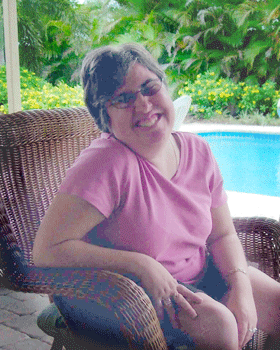 That future was to be an extremely mentally and physically challenging existence of almost 45 years that included 12 major surgeries. Robyn struggled daily and rarely had a pain free day.
But Robyn's day to day struggles are not the story of her life.
That story would not begin to tell about the positive outlook Robyn seemed to find every day. Along with her obvious physical challenges, God blessed Robyn with a strong personality and a positive attitude. She rarely complained about her pain and seemed to take it in stride as if it were normal. Whenever she and her family returned home from an outing or vacation, Robyn would write a detailed journal about the trip. She never seemed to mention feeling any pain or discomfort or for that matter never seemed to complain about anything at all. Truly an angel.
She always seemed to bring out the best in everyone. She loved to be at family gatherings and reunions. She made us feel special. Especially the ones chosen to care for her.
A glimpse of who Robyn really was and how she lived her life can be found in some of the photographs of her life. You'll find pictures of Robyn white water rafting, riding a horse, visiting Mt. Rushmore, Devil's Tower, the Grand Canyon, Yellowstone and many other places. Having her picture taken with Jason Priestly at the Sebring race track. And until her later years, she would ride on all the tough rides at the large amusement parks. She wouldn't hesitate to say "Let's do it!"
She lived her life to the fullest despite her limitations.
Robyn's final two years were increasingly difficult. She became less mobile as her pain level increased but she seldom complained. She was more likely to apologize for needing help than she was to complain about the need for help. She would honestly tell you she was hurting if you asked, but would seldom mention it on her own. There was one notable exception. After one particularly difficult day, when she was getting ready to go to bed she quietly confided: "I wish I could have one day without pain".
Her more frequent response when she went to bed was "Life is perfect". And that word best defines Robyn... "PERFECT".
God blessed us with an angel and she greatly enriched our lives.
Robyn's family tried everything in their power to take away her pain; but they could not. We prayed that God would help us in this life but decided to bring His angel home while she slept peacefully in the early hours of February 25, 2013, following a wonderful day spent at a family gathering. Although we are heartbroken and will miss her greatly, we understand that Robyn is now in the best place and that she is no longer in pain.
We love you, Robyn.
Robyn is survived by her parents, Del and Jane Fradley, her brother Robert Fradley and more than 170 aunts, uncles, and cousins from Fradley and Moran clans.